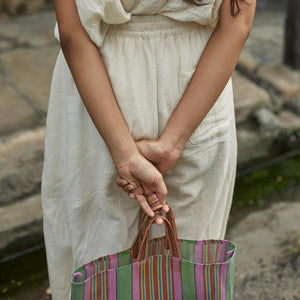 Clotho Collective
---
Clotho Collective is our new made-to-order curatorial retail project that places you, our customer, as the vision behind our studio. Foregrounded in the idea of 'foretelling', this mode of retail experience encourages you to browse our collection of fashion and product design from our website in anticipation of what you would like to wear in the approaching season.
When you place an order, we initiate the making of the product and guarantee you its delivery by the date specified for each product. As the order gets actualized, you will remain an active part of the process through images, videos and messages from the makers at each stage of its making process We capture the time and labour that go into it, make you a part of it, culminating with a showreel when the product reaches your own hands.
Clotho Collective aims to initiate a foretelling of your story and in the reduction of textile waste and resources that accompany mass-manufacture. Our products are all made in India through conscientious and rigorous textile making practices that support the sustenance of crafts rituals, practices, people and labour. It is an occasion that keeps our textile craft cluster communities breathing and helps them come together for the weaving of your incredible story.
 In anticipation of your order, our initiative encourages an opportunity for you to experience the crafting of your vision beyond the terrains of the temporal. Clotho Collective brings a moment to appreciate the time and labour that goes into making what you wear, and to witness and be a maker of your own product as you grow to develop a relationship with your product.